What is Denier and What does it mean?
When we talk about hosiery, denier is a word you can hear a lot! However, many people don't know what is denier and why is important when buying hosiery. So, we're going to explain all of it in this post, hoping that you can now understand more about how the denier scale works, where denier comes from and what the denier numbers mean on legwear.
Denier is the weight of the fabric in your tights, stockings and hosiery. Usually, the heavier and thicker the material, the higher the denier.
High Denier Tights & Stockings Explained
High Denier hosiery is usually made of heavier fabrics, has more thickness and is over 40 Denier. High deniers are perfect for cold winter weather as they feel so warm and comforting. Many of our very high denier tights and stockings are over 80+ denier, which makes them ideal to wear when it's cold out there and some winter tights are over 200+ denier, so they truly are one of the best ways to keep your legs warm in winter. If you are after tights, hold ups and stockings for autumn-winter, make sure you filter by high denier.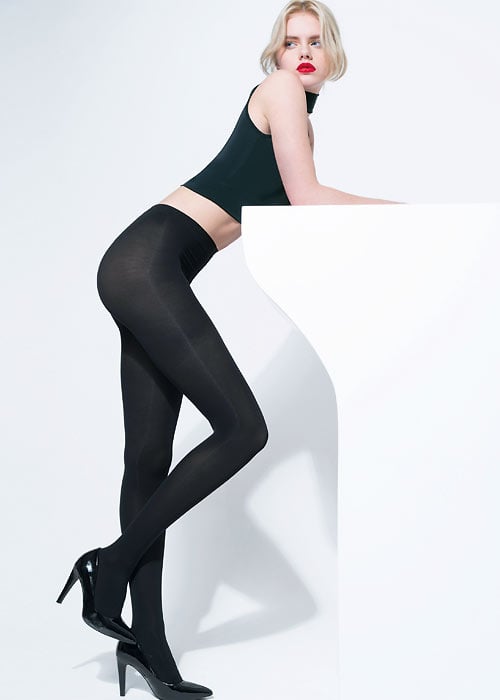 Key concepts about high denier hosiery:
High Deniers are stronger
High Deniers are thickest
High Deniers are more opaque
High Denier are more durable 
Low Denier Tights & Stockings Explained
Low Denier hosiery is lighter, less thick and around 5 to 30 denier. Sheer tights and stockings often have lower deniers. The lightest hosiery sheer styles, of under 10 denier, are called ultra sheer and they are especially light, almost invisible. They often feel like like a second skin or a short of make up for your legs, but low denier ultra sheer tights are delicate and easier to run. Many people prefer going for a little safer option and wearing 15 to 20 deniers, especially if you wear sheer hosiery to work. See our sheer tights range and sheer stockings range to browse our lower denier legwear.
Key concepts about low denier hosiery:
Low Denier tights and stockings have lighter fabrics
Low Deniers range from 5 to 30 denier 
Low Deniers are more delicate
Low Denier hosiery is see-through
Mid Denier Tights & Stockings
There are some hosiery items that fall somewhere between high and low denier. These styles are 30-40 Denier and are considered Semi Sheer or Semi Opaque. These styles are ideal for mid-season, this is, at the beginning of autumn and spring.
When Quality Beats Opacity
Quite often you ask ask if your 100 denier tights or leggings will see though and it's something difficult for us to answer. Denier isn't everything to account for when buying hosiery. Indeed, the quality of yarns is extremely important, too. If you have ever invested in a high quality pair of tights, you'll know what we mean.